John "Liver-Eating" Johnson  (born circa 1824 and died 1900)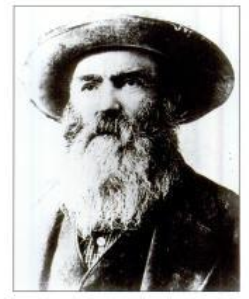 Rumors, legends, and campfire tales abound about Johnson. Perhaps chief among them is this one: In 1847, his wife, a member of the Flathead American Indian tribe, was killed by a young Crow brave and his fellow hunters, which prompted Johnson to embark on a vendetta against the tribe. The legend says that he would cut out and eat the liver of each man killed. This was an insult to Crow because the Crow believed the liver to be vital if one was to go on to the afterlife. In any case, he eventually became known as "Liver-Eating Johnson". The story of how he got his name was written down by a diarist at the time.
One tale ascribed to Johnson ,while other sources ascribe it to Boone Helm, was of being ambushed by a group of Blackfoot warriors in the dead of winter on a foray to sell whiskey to his Flathead kin, a trip that would have been over five hundred miles. The Blackfoot planned to sell him to the Crow, his mortal enemies, for a handsome price. He was stripped to the waist, tied with leather thongs and put in a teepee with only one, very inexperienced guard. Johnson managed to break through the straps, then knocked out his young guard with a kick, took his knife and scalped him, then quickly cut off one of his legs. He made his escape into the woods, surviving by eating the Blackfoot's leg.