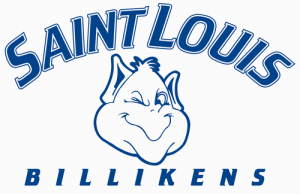 The St. Louis University Board of Regents announced on March 30. 2016 that they had hired Travis Ford to be the next basketball coach for the Billikens. The fans in and around the campus were hoping for more but soon realized he may be the best man at the right spot.
When Ford went off to college in 1989-1990 and attended the University of Missouri after a much heralded high school career at Madisonville High School in Kentucky. He was an instant success at Mizzou and was named Big Eight Conference All-Freshman team member.
Ford longed to play for the team he always grew up cheering for, the University of Kentucky. He transferred and per NCAA rules sat out one year before playing sparingly his sophomore year for the Wildcats. The next two years were a success for Travis Ford as he set school records in single-game assists (15), single-season three-point field goals (101) and consecutive free throws made (50). Ford was named to the All-SEC team his junior and senior years, and was recognized as the Southeast Region's Most Outstanding Player in the 1993 NCAA Tournament.
After graduation from college, he wanted to coach but things weren't developing as quickly as he wished. He accepted a position at Campbellsville University and his best season was 28-3. He moved to Eastern Kentucky in 2000 and built that program to a pinnacle, In 2005, his team played his alma mater, Kentucky in the NCAA and valiantly fought but lost 72-64. His team was 22-9 and champions of the Ohio Valley conference.
He moved to UMass and coached from 2000-2004 and reached the NIT finals before losing to Ohio State. He became the head coach for the Oklahoma State Cowboys in 2005 and remained there until they mutually agreed to part ways after a disappointing 12-20 in the rigid Big 12 Conference.
What the biggest benefit for the Billikens will be his ability to recruit players. He has had several players move to the NBA and he is consistently getting top high school players to play for his teams. Marcus Smart and Markel Brown are some of his prized recruits along with Gary Forbes.
He knows how to get the job done and will bring in tireless recruiters to hone in on the St. Louis Billikens. It is an exciting time for Billiken fans. It may take a few seasons but look for Travis Ford to jump the line and bring proud basketball back to the folks in St. Louis.
Campbellsville: 67–31 (.684) 25–11 (.694)
Eastern Kentucky: 61–80 (.433) 28–52 (.350
UMass: 62–35 (.639) 31–17 (.646)
Oklahoma State: 155–111 (.585) 63–80 (.441)
Head coaching record
Overall 331–234 (.586)