Ralph Joseph "Putsy" Caballero (November 5, 1927 – December 8, 2016) was an infielder in Major League Baseball. Caballero played eight seasons in Major League Baseball, all for the Philadelphia Phillies during the Whiz Kids era, and holds the record as the youngest person in major league history to appear at third base.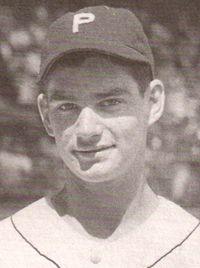 After graduating from Jesuit High School in New Orleans at age 16, the Phillies signed Caballero to a contract worth $10,000. Following a few short stints at the major league level and playing parts of three seasons in the minor leagues, Caballero was named the Phillies starter at third base in 1948. In his only season as an everyday player, Caballero batted .245 in 380 plate appearances at age 20. After another stint in the minors in 1949, he was a backup infielder, pinch hitter, and pinch runner for the 1950 Phillies, and continued in that role through 1952. Following three more years in the minors, Caballero retired from baseball after the 1955 season.
After baseball, Caballero worked as an exterminator. His Louisiana home was destroyed in 2005 during Hurricane Katrina, where he lost signed memorabilla from Babe Ruth and Pete Rose. He then lived in Lakeview, New Orleans.
Born: November 5, 1927
New Orleans, Louisiana
Died: December 8, 2016 (aged 89)
Lakeview, New Orleans
Batted: Right Threw: Right
MLB debut
September 14, 1944, for the Philadelphia Phillies
Last MLB appearance
September 27, 1952, for the Philadelphia Phillies
MLB statistics
Batting average .228
Home runs 1
Runs batted in 40
Games played 322
Teams
Philadelphia Phillies (1944–1945; 1947–1952)
Career highlights and awards
1950 National League pennant winner
With his departure, Charlie Gorin now is added and becomes this 100th Oldest Living Former Major Leaguer.