Central Illinois has had many major league baseball players in history. Let's look at them from the 12 counties that we have selected to become Central Illinois. (Logan, McLean, DeWitt, Woodford, Fulton, Peoria, Mason, Tazewell, Cass, Morgan, Menard, Sangamon)
Frank "Pop" Dillon -Born in Normal, Illinois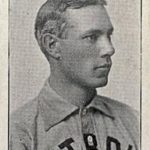 Frank "Pop" Dillon was born in Normal, Illinois to Levi and Mary Wright Dillon on October 17, 1873. His father owned and operated a business breeding and selling Percheron horses. At the time of his birth, the area around Bloomington-Normal was booming with canning and shipping of fruits and vegetables. This help establishes a solid income for the family.
His mom's sisters family moved to the Normal area after the passing of the husband/dad and it was at the age of 8 that Frank met his cousin Clark and they immediately hit it off with their love of baseball. Dillon attended school in the local public education program and then attended Illinois State University in 1882. He became a right-handed thrower and a left-handed batter for the ISU Redbirds but primarily played in the outfield. He transferred to the University of Wisconsin where he played some football and became the second best pitcher on the baseball team. In 1894, he became their primary hurler and from there got some notice for professional baseball.
After the spring semester, he signed his first professional contract for the Peoria Distillers and played in 24 games and jumped to his hometown in Bloomington in 1895. Then he jumped around to Ottumwa and then Jacksonville. and back to Bloomington. By 1897, he was no longer a pitcher and was strictly an outfielder.
Things jumped to 1899 when he was purchased by the Pittsburgh Pirates on September 6 for $1500. He made his major league debut on September 8, 1899, and got two hits and scoring twice. He became a regular for the rest of the year. In the offseason, the team had a complete makeover of the roster and after five games in 1900, Dillon was released. He was signed a week later by the Detroit Tigers and hit .291 in 123 games.
He continued to play for them, however, in the offseason he came down with appendicitis and he came back only to be mired in a bad hitting slump. He got released and moved around to play for several teams with many of them in the minor leagues. It was in the California League that Dillon became a player-manager for Los Angeles. His team had a remarkable 133-78 record.
He played first base and continued to pinch hit for three more seasons. After the 1915 season, the club started looking for a new manager. Seeing the writing on the wall, Dillon retired in November. In nearly 2,200 minor league games he batted a respectable .295 with over 2,300 hits.
In 1889, Dillon married Blanche Ada Reitzell and they had no children. "Pop" became baseball coach at Occidental College after his major league retirement and then he bought an apple farm completely from the game of baseball. That is until 1924 when he became treasurer for the Association of Professional Ball Players of America. Dillon wrote a book titled, "How to Play Baseball and Inside Baseball."
At the age of 57, he died on September 12, 1931, and is buried in Glendale, California.
Other Central Illinois bios are HERE