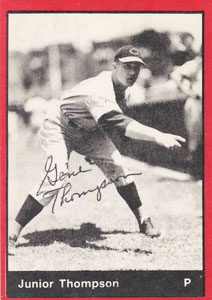 I am currently doing profiles on major league baseball players that were born in Illinois. I am attempting to highlight them on their birth date.
"Junior" Thompson was born Eugene Earl Thompson in Latham, Illinois on June 7, 1917. He was a right handed pitcher for the Cincinnati Reds.  BOXSCORE  Thompson made his major-league debut on April 26, 1939, at Busch Stadium in St. Louis. It was the 8th inning and he had to face two future Hall of Famers and one All Star . He got Joe Medwick, the cleanup hitter, to ground out to second and then faced Johnny Mize and got him to fly out to center field. Terry Moore was next and it was a lazy pop fly to third base and he was out of the inning with no hits allowed. After that he was 13-5 in the season and mustered a 2.54 ERA along with three shutouts. He pitched in the World Series and lost as the Reds were swept.
He served in the United States Navy in World War II and after his discharge the Reds allowed him to sign with the New York Yankees. His career record was 3,26 ERA and a 47-35 record along with 315 strikeouts. He pitched 686 2/3 innings in 185 games. When he finished his playing time in 1947 he became a scout for the next 40 years for the San Francisco Giants, He retired in 2005. He died on August 24, 2006 and is buried in Scottsdale, Arizona.
Here is a great BIO written by SABR.
Where is Latham, Illinois? It is in Logan County and Latham was platted in 1871, and named in honor of Robert B. Latham, a railroad official.A post office called Latham has been in operation since 1872. It has a population of 321 in the 2000 census.
Mudvayne singer Chad Gray is from Latham.