Continuing on with my series on Illinois Born major league players finds some interesting facts. These players were all born between July 1 and July 4. For more articles on "Boys of Summer" players click HERE.
Mel Simons was born Melburn "Butch" Ellis Simons in Carlyle, Illinois on July 1, 1900. He played outfield for the Chciago White Sox for two season (1931-1932) and finished with a .268 batting average with 12 runs batted in. He hit no home runs and made his debut on April 14, 1931. At the age of 74, he died and was buried in Paducah, Kentucky.
Pete Burnside
Peter Willits Burnside ws born July 2, 1930 in Evanston, Illinois. He attended New Trier High School and graduated from Dartmouth College. He became a lefthanded major league pitcher and made his major league debut on September 20, 1955. He started on the mound for the New York Giants and lasted 3 2/3 innings allowing 3 hits and 2 earned runs with 6 walks and 2 strikeouts. He didn't figure in the decision. He played for five teams from 1955-1963. In his career he was 19-36 with a 4.81 ERA and 303 strikeouts.
 Tom Gilles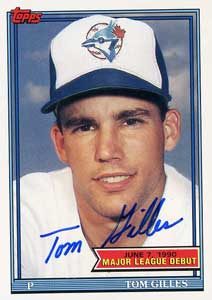 Thomas Bradford Gilles (born July 2, 1962) is a former Major League Baseball pitcher. Gilles pitched in two games for the Toronto Blue Jays in the 1990 season. He had a 1-0 record, in 1.3 innings, with a 6.75 ERA. He played June 7th and 8th in 1990. Born in Peoria, Illinois, he was drafted by the New York Yankees in the 47th round of the 1984 amateur draft.
Frank Millard
Frank E. Millard wass born in East St. Louis, Illinoius. He played second base in one game, with no hits, for the St. Louis Browns of the American Association on May 4, 1890. He died two years later, while playing for the Galveston Sand Crabs in the Texas League.
Bill Tuttle  
William Robert Tuttle was born on July 4, 1929 in Cramer , Illinois which is near Farmington. He went on to attend Bradley University in Peoria before he enter ed the major leagues as a centerfielder. He made his debut on September 10, 1952 for the Detroit Tigers. In his 12 year career,  he hit .259 with 67 home runs and 443 runs batted in. He had 1,105 career hits before retiring on May 11, 1963. Throughout his career, Tuttle was considered one of the most reliable outfielders in the game, leading the league in putouts in 1955 and 1960 and outfield assists in 1959 and 1960.
On practically every baseball card issued for Tuttle, a large bulge of chewing tobacco is evident in his cheek. Tuttle died in Anoka, Minnesota at the age of 69, and oral cancer was in all likelihood the cause of his death. Bill was diagnosed with oral cancer five years before his death, and he put the last half-decade of his life to use in raising awareness, as an active volunteer for the National Spit Tobacco Education Program (NSTEP) of Oral Health America.
During the last years of his life, Tuttle was facially disfigured due to extensive surgery for oral cancer. He traveled widely as a public speaker, warning major league players of the dangers of chewing tobacco. "It's going to be pretty hard to tell someone making $4 million a year not to chew", he admitted. "So what we're trying to do is get it off TV." What Tuttle was trying to do was to stop baseball players from chewing tobacco, and thus setting a bad example for the young people who watch baseball. After being diagnosed with oral cancer, he was interviewed for a Reader's Digest article entitled "My War With A Smoke Free Killer" in which he detailed how he was introduced to chewing tobacco by a teammate while sidelined with an injury and subsequently became addicted. The article made it a point to show pictures of a disfigured Tuttle after his many facial surgeries. He died in July 1998 at age 69.