I continue my series on Illinois born major league players. If you wish to see the list of players we have highlighted so far, please click HERE.
Larry Stahl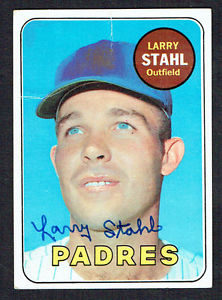 Larry Floyd Stahl as born on June 29, 1941 in Belleville, Illinois and became a  professional baseball player who played outfielder in the Major Leagues from 1964-1973. He played for the Kansas City Athletics, New York Mets, San Diego Padres, and Cincinnati Reds.
He made his debut on September 11, 1964 for the Athletics as a pinch hitter. He got his first hit against the Yankees on September 19th with Ralph Terry on the mound. His one moment in history may have came on September 2, 1972 as a member of the San Diego Padres. Milt Pappas was on the mound for the Cubs and he retired 26 btters in a row and now faced Stahl as a pinch hitter. Pappas got the count to 2-2 with Bruce froemming behnd the plate and threw a very close pitch for ball 3 on the batter. The next pitch was too close to take but Froemming called it ball four and the perfect games was gone and broken up by Larry Stahl. Pappas preserved the no-hitter on the next batter. Primarily an outfielder, his best year was 1971 at age 30 when, in 114 games for the Padres, he hit .253 with eight home runs and 36 runs batted in. He had exactly 400 career hits. In his one postseason appearance, the 1973 National League Championship Series, playing for the Reds he had two hits in four at bats.
Bill Webb

   William Joseph Webb was born on June 25, 1895 in Chicago, Illinois. He played in five major league games with his debut on September 17, 1917 as a second baseman for the Pittsburgh Pirates. He went ent hitless in his first four games but on October 1, 1917, which turned out to be his last major league game, he got three singles in four at bats to end his career at 3-for-15 for a .200 batting average. He went to the minor leagues and became a player-manager for the Buffalo Bisons in 1924-1925 and then moved up the ldder from there. He was a third base coach in the major legues for fives seasons and then went to the front office for the White Sox as minor league director. He died in a car accident on his way to work on January 12, 1943.
Joe Zdeb

Joseph Edmund Zdeb was born on June 27, 1953 in Compton, Illinois (Compton is a village in Lee County, Illinois, United States. The population was 303 at the 2010 census, down from 347 in 2000) and attended high school at Maine South in Park Ridge, Illinois. He had a scholarship to the University of Missouri to play football but was chosen in the 4th round of the 1971 amateur draft by the Kansas City Royals. He decided to play baseball. He had several minor leagues stops on his way to the major leagues. At some point, during minor league spring training, he showed up to camp with long hair, which was against team policy. Manager Joe Gordon refused to give him a uniform, so he approached general manager Lou Gorman, asking "Mr. Gorman, if I cut my hair, will I become a better ballplayer?" Gorman said he needed to cut it to properly represent the organization, and after initially refusing, he did so a couple days later.
He made his major league debut on April 7, 1977 and went 1-for 4. He was a platoon (left fielder) player most of his brief career. He played his last game in May 29, 1979. On January 15, 1980, Zdeb was traded to the Chicago White Sox for pitcher Eddie Bane. He finished his professional career that year, splitting the season between the White Sox Iowa Oaks affiliate and the Tidewater Tides in the New York Mets organization. His struggles at the plate continued, as he hit a combined .194, and after the season he was out of professional baseball. For his career, he batted .272 with 2 home runs and 34 runs batted in.