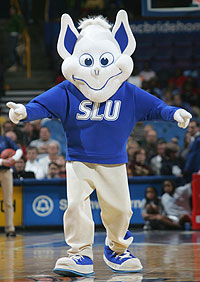 It is heard all across America. Fans of major college basketball teams want their school to get the local kids. In mny cases, that would help success but that is not always the fact.
So Travis Ford is now the Head Coach of the SLU Billikens. He mentioned he wanted the kids from St. Louis, Kansas City, the State of Missouri and The State of Illinois to give his program first look and strong consideration. Can that work? If you JUST recruited St. Louis are you putting several key pieces on the floor to help the program? Can you find five players in the area or the city that can play like Division I players should?
Let's take a brief look.
Jayson Tatum of Chaminade High School was just named the 2015-2016 Gatorade Player of the Year. He accept a scholarship at Duke, not St. Louis under Jim Crews.
Tyler Cook, also of Chaminade, has signed to go to Iowa.
Mikey Lewis, a guard at Chaminade, is expected to play at Duquesne.
Hazelwood Central forward, Xavier Sneed, is playing for Bruce Weber at Kansas State.
Jordan Barnes, CBC guard, has his sights set on Indiana State.
Granted, they all may not rise to a level of success they are hoping for in D1 basketball, but neither to several other recruits that other school sign. That is a starting 5 that just comes from St. Louis. If Travis Ford can get these kind of players along with Kansas City and compete is Mizzou and Illinois, he has the makings for a very successful future at St. Louis University.