HISTORY of MANITO TOWNSHIP Part 3
(tomorrow is Village of Manito history)
Richard L. Porter, a son of Stephen W. Porter, was, so far as can be ascertained, the first child born of white parents in the township. His birth dates back to 1841. The first death of which we have any account given was that of William Herron, who has already been mentioned as the earliest settler, and whose grave is on the farm on which he first settled. The exact date of his death cannot be ascertained, though it must have occurred as early as 1844 or 1845. The first wedding was celebrated between Alexander Graves and Polly Ashmon. This happy event occurred in 1846, at the residence of the bride's father, Zeno Ashmon, one of the early settlers. Outside of the village of Manito, but two houses of worship have been erected in the township. These are both in the eastern portion. One is a German Lutheran, or Lutheran Evangelical, and the other a German Methodist, or, as it is commonly designated, Albright. These churches were both built in 1869. Rev. Reisinger organized the Lutheran congregation in 1867, and was Pastor of the Church some years.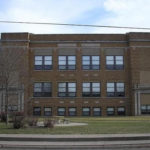 Rev. Henry Siering followed him,, and was' the spiritual teacher of the congregation about five years, when he was succeeded by his brother, Rev. Hermann Siering, the present Pastor in charge. The Church has a membership of about fifty souls. They have regular services and a flourishing Sunday school. Of the Albright, or German Methodist, we were unable to learn any particulars other than that the society is in a prosperous condition, meeting regularly for worship, and having a Sunday school connected with it of fine interest.
No mill was ever built in the township save the one of recent date, built in the village, and to which reference will be made in its history. The P., P. & J. R. road enters the township near the center of the southern boundary of Section 6, and, passing through in a general northeastern direction, leaves it at the northeast corner of Section 21, thus giving to the township about five- miles of railroad. Among her citizens who have received political preferment at the hands of the citizens of the county, we may mention the names of John Pemberton and Matthew Langston. John Pemberton or " Uncle Jackey," as he is familiarly called, was chosen Associate Justice of the county in 1849.
The other members who assisted in holding down the seat of justice were Smith Turner,. County Judge, and Robert McReynolds, Associate. This position he held until 1853. He was also chosen to represent the county in the Lower House in quite an early day. It is said of him that, so great was his zeal to secure a successful issue of the campaign, whereby Mason County might be properly represented at the capital and a seat for himself secured in the Grand Council,, that he was found once or twice outside the limits of his county, earnestly engaged in trying to persuade the citizens of an adjoining county that he was the proper man to represent Mason County in the General Assembly, and that he would be grateful to them for their support. This he did, not with any design of obtaining his seat fraudulently, but simply from the fact that he did not recognize that he had passed beyond the limits of his own county.
A vote for and against township organization was taken November 11, 1861, to take effect April, 1862 The vote for adoption prevailed, and Hon. Lyman Lacy, of Havana, Maj. B. H. Gatton, of Bath, and Hon. Matthew Langston, of Manito, were chosen Commissioners to divide the county into townships. Mr. Langston was chosen first Supervisor of Manito Township, and held the office three terms in succession. In 1865, he was elected to the office of County Judge, and sat upon the judicial bench two years, at the end of which he resigned the position to devote himself more fully to his private affairs. In 1871 and 1872, he represented his county in the Lower House, at Springfield. Since then, he has devoted himself to the quiet pursuits of agricultural life. The township of Manito acquired its name from that of the village, which had been platted and recorded before the township was laid out. About twenty-five years ago, a tragedy occurred within her borders, and with a brief allusion to this we will close our township history.
In 1849 or 1850, Benjamin Alwood and family, consisting of his two sons Andrew Jackson and Hugh M. and two daughters, came from New Jersey and settled not
far southeast of the present village of Manito. The Alwood family were possessed of considerable means, and entered a large amount of land. From various causes, they soon became unpopular with their neighbors, whether justly or otherwise it is not our province to explain. The feeling of hatred grew into gigantic proportions, and finally culminate  in open demonstrations. As early as 1853 or 1854, a party in disguise waited upon the family and informed them that they must quit the neighborhood. The Alwoods informed them that they had come to stay, and did not propose to be frightened away. Not long afterward, a crop of wheat belonging to a man by the name of Hoyt was destroyed by fire. It was the generally received opinion, though it was by no means supported by positive proof, that the Alwoods had a hand in the burning, or, at least, had privy knowledge of the fact that it would occur. At any rate, this was made a pretext for destroying* their entire crop, by way, as it was said, of retaliation. This was followed up by the burning of their house and the shooting of Hugh M. and one of his sisters. The shooting in this instance did not, however, prove fatal. It so happened that at the burning of the wheat crop, Jack Alwood followed the parties, and succeeded in identifying some of them before he was discovered and forced to flee for his life. Legal proceedings were instituted, and a number of persons were indicted before the grand jury. Trials were appointed, but were postponed from time to time.
After the burning of their home, the Alwood family moved to Quiver Township and remained a short time. Returning, they built a hewed-log house and set about raising their crops. In the fall of 1856, while Jack Alwood was in his field, engaged in cutting up corn, he was shot by unknown parties, and instantly killed. This put an end to the prosecution of indictments against parties supposed to have been engaged in the destruction of their property. While this sad occurrence was deeply deplored by the better
class of citizens, it was nothing more than had been expected for months previous to its commission. He had been warned time and again that a continued attempt on his part to prosecute the indictments found would speedily lead him to an untimely grave. Let us hope that no similar occurrence may ever again darken the fair name of Manito Township and those of her citizens.