Before I begin I've had some people think I should rename the blog to things like Tom's Old Thoughts, Tom's Recollections, An Old Man's Ramblings and a few others. I do agree the original title, "The History of Me", is rather boring. So I ask you to give me your thoughts on the naming of this series. Add your own or use one of the other ones. Just leave a comment at the end of the thread. Thanks.
Sixth Grade Basketball
I remember it. Almost everyone went out for basketball in the 6th grade. I also remember it because I gained a life lesson in the very first game that I played in. More about that later. I loved sports and this was a chance to get it going. The 6th grade season was coached by our principal Lanny Rudd. He was a fair guy that loved working with kids. It was time to practice and practice for the upcoming season. We only got about 2 or 3 days a week for practice as we yielded to the "lightweights" and "heavyweights". I am also going to save commenting on that until a later time.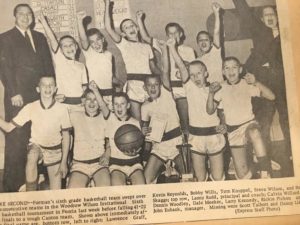 In case you can't read the clipping from left to right
Front row- Lawrence Graff, Kevin Reynolds, Bobby Wills, Tom Knuppel, Steve Wilson, Bob Skaggs
Back row- Coach Lanny Rudd, Calvin Willard, Dennis Woodley, Dale Meeker, Larry Kennedy, Rickie Picken and manager John Eubanks
Let the Games Begin!
Finally we had our first game. I was a starter on the team and was doing very well. Now here is the life lesson. During a timeout in the 3rd quarter of my first game, I whispered to one of the other players that was close to the scorer's table this, "check and see how many points I have."
Things stopped right there! Coach Rudd asked me what I had said. Sheepishly, I told him. Calmly, as he always did, he looked at me and said something like…. we don't care how many points you have, this is a team and we only want to know how the team is doing. Gulp. I was frozen and then shook my head.
Lesson Taught, Lesson Learned
It was a lesson I always kept. I don't remember asking how many points I had during or after the game EVER again. The reason I didn't ask after that is I understood the lesson and my mom ALWAYS told me how I played, if it was good or if it was bad and she shared what she had for free throw percentage and shooting percentage. She told me if I could do better. I had one technical in my basketball career (8th grade) and she let me have it. That discussion will come in another story.
Now back to our 6th grade season. We didn't play a ton of games but we were good. In fact, we won all our games except for the last game which was in the Woodrow Wilson tournament. Look at this program carefully as it lists all the players like usual except they also go a bit further and show our height and weight. Methinks that is not socially acceptable today.
Woodrow Wilson Tournament
The tournament started on Saturday March 2, 1963. Here is the schedule for it:
In the first game, according to the Pekin Times we defeated Bellevue 34-19 as I had 14 points and Dale Meeker chipped in 8 points. The second game we beat top seeded (who seeds a 6th grade tourney?) Pleasant Hill 26-21 and Dale and I had 8 points eachto lead the way.
Then in the semi finals we beat Robein 31-26 and I had 12 points. The championship game was ugly for us as Canton whalloped Forman 41-22. I didn't realize til I looked at the article and box score I had 4 points and must have choked big time. I did get selected to the All-Touney Team.
This is what I received for the selection.

Hope you enjoy some part of my stroll down memory lane. I will be adding stories on Sundays and Wednesdays and they will not be in any particular order.
Feel free to share with someone who might have remembered these thinngs or may have been part of it. 
NEXT BLOG: Sunday, January 8th – "I'm Still Paying For It"
Other Blog Posts in this series: