We have five former major leaguers that were born in Illinois on December 1st.
Daniel Ernest Schatzeder
Daniel Ernest Schatzeder was on born December 1, 1954 in Elmhurst, Illinois and is a former professional baseball player who pitched in the major leagues from 1977–1991 for nine different teams.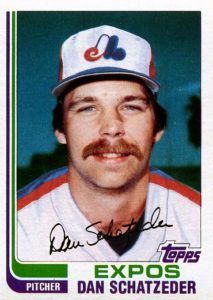 Schatzeder played college baseball at the University of Denver. After he retired from the majors, he was a Physical Fitness teacher at Waubonsie Valley High School in Aurora, Illinois until he retired after the 2014-2015 school year.
In 1986, Schatzeder had 5 pinch hits for the Montreal Expos, the most by a pitcher since Don Newcombe in 1959.
Schatzeder was the winning pitcher for the Minnesota Twins in Game 6 of the 1987 World Series.
Born: December 1, 1954
Elmhurst, Illinois
Batted: Left Threw: Left
MLB debut
September 4, 1977, for the Montreal Expos (Boxscore)
Last MLB appearance
May 25, 1991, for the Kansas City Royals
MLB statistics
Win–loss record 69–68
Earned run average 3.74
Strikeouts 748
Teams
Montreal Expos (1977–1979)
Detroit Tigers (1980–1981)
San Francisco Giants (1982)
Montreal Expos (1982–1986)
Philadelphia Phillies (1986–1987)
Minnesota Twins (1987)
Cleveland Indians (1988)
Minnesota Twins (1988)
Houston Astros (1989–1990)
New York Mets (1990)
Kansas City Royals (1991)
Career highlights and awards
World Series champion (1987)
Kirk Rueter
Kirk Wesley Rueter (born December 1, 1970) is a former left-handed pitcher in Major League Baseball, and is the most successful left-hander in San Francisco Giants history. Rueter played for the Montreal Expos and the Giants and made most of his career appearances as a starter. Rueter attended and played for Murray State University. He is nicknamed "Woody" after his resemblance to a character in the animated movie Toy Story, although during his time in Montreal he was often referred to as "Captain Kirk". Rueter was born in Centralia, Illinois, grew up in Hoyleton, Illinois and graduated from Nashville Community High School District 99 in Nashville, Illinois in 1988.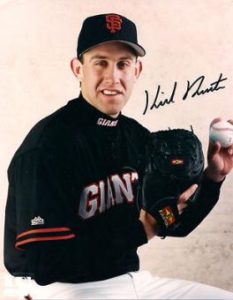 Born: December 1, 1970
Hoyleton, Illinois
Batted: Left Threw: Left
MLB debut
July 7, 1993, for the Montreal Expos (Boxscore)      In his debut he pitched 8.1 innings and allowed 2 hits, walked three and fanned five for the win.
Last MLB appearance
July 29, 2005, for the San Francisco Giants
MLB statistics
Win–loss record 130–92
Earned run average 4.27
Strikeouts 818
Teams
Montreal Expos (1993–1996)
San Francisco Giants (1996–2005)
Lefty Sloat
Daniel Clifford Sloat was born in Nokomis, Illinois on December 1, 1918. He went on to be a lefthanded pitcher for nine games in the 1948 and 1949 seasons for Brooklyn Dodgers and Chicago Cubs.
He made his debut on April 24, 1948, for the Brooklyn Dodgers (boxscore)
Line Score = 0.1IP/0H.1ER.3BB/0K/4BF
Last MLB appearance
May 13, 1949, for the Chicago Cubs
MLB statistics
Record 0-1
Earned run average 6.61
Strikeouts 4
Charlie High
Charles Edwin High (1898–1960) was an American Major League Baseball outfielder. He played for the Philadelphia Athletics during the 1919 and 1920 season.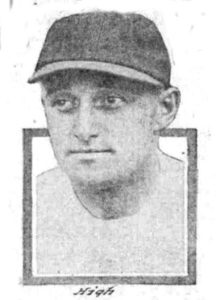 Charles Edwin High
Position: Rightfielder
Bats: Left, Throws: Right
Height: 5′ 9″, Weight: 170 lb.
Born: December 1, 1898 in Ava, IL
School: St. Louis University (St. Louis, MO)
Debut: September 5, 1919 vs. BOS 1 AB, 0 H, 0 HR, 0 SB
Team: Athletics 1919-1920
Last Game: October 1, 1920 (Age 21.305) vs. WSH 2 AB, 0 H, 0 HR, 0 RBI, 0 SB
Died: September 11, 1960 in Oak Grove, OR (Aged 61.285)
Buried: Portland Memorial Cemetery, Portland, OR
Mike Cvengros
Michael John Cvengros (December 1, 1900 – August 2, 1970) was a Major League Baseball pitcher. He played all or part of six seasons in the majors, between 1922 and 1929, for the New York Giants, Chicago White Sox, Pittsburgh Pirates, and Chicago Cubs. After his major league career, he played in the minor leagues until 1937, mostly for the Houston Buffaloes. In that final season, he served part of the year as the Buffaloes' manager.

Born: December 1, 1900
Pana, Illinois
Died: August 2, 1970 (aged 69)
Hot Springs, Arkansas
Batted: Left Threw: Left
MLB debut
September 30, 1922, for the New York Giants
Last MLB appearance
October 5, 1929, for the Chicago Cubs
MLB statistics
Win–loss record 25–40
Strikeouts 201
Earned run average 4.59
Teams
New York Giants (1922)
Chicago White Sox (1923–1925)
Pittsburgh Pirates (1927)
Chicago Cubs (1929)