A Joint Congressional Resolution requiring the Secretary of War "to provide for taking meteorological observations at the military stations in the interior of the continent, and at other points in the States and Territories…and for giving notice on the northern lakes and on the seacoast, by magnetic telegraph and marine signals, of the approach and force of storms" was introduced. Congress passed the resolution and on February 9, 1870, President Ulysses S. Grant signed it into law. A new national weather service had been born within the U.S. Army Signal Service's Division of Telegrams and Reports for the Benefit of Commerce that would affect the daily lives of most of the citizens of the United States through its forecasts and warnings for years to come. Gen. Albert J. Myer served as the first Director of the new weather service.
For the Whole Story
he National Weather Service (NWS) is an agency of the United States government that is tasked with providing weather forecasts, warnings of hazardous weather, and other weather-related products to organizations and the public for the purposes of protection, safety, and general information. It is a part of the National Oceanic and Atmospheric Administration (NOAA) branch of the Department of Commerce, and is headquartered in Silver Spring, Maryland (located just outside Washington, D.C.). The agency was known as the United States Weather Bureau from 1890 to 1970, when it adopted its current name.
The NWS performs its primary task through a collection of national and regional centers, and 122 local weather forecast offices (WFOs). As the NWS is a government agency, most of its products are in the public domain and available free of charge.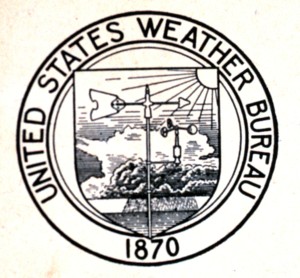 In 1870, the Weather Bureau of the United States was established through a joint resolution of Congress signed by President Ulysses S. Grant with a mission to "provide for taking meteorological observations at the military stations in the interior of the continent and at other points in the States and Territories…and for giving notice on the northern (Great) Lakes and on the seacoast by magnetic telegraph and marine signals, of the approach and force of storms." The agency was placed under the Secretary of War as Congress felt "military discipline would probably secure the greatest promptness, regularity, and accuracy in the required observations." Within the Department of War, it was assigned to the U.S. Army Signal Service under Brigadier General Albert J. Myer. General Myer gave the National Weather Service its first name: The Division of Telegrams and Reports for the Benefit of Commerce.
Cleveland Abbe – who began developing probabilistic forecasts using daily weather data sent by the Cincinnati Chamber of Commerce and Western Union, which he convinced to back the collection of such information in 1869 – was appointed as the Bureau's first chief meteorologist. In his earlier role as the civilian assistant to the chief of the Signal Service, Abbe urged the Department of War to research weather conditions to provide a scientific basis behind the forecasts; he would continue to urge the study of meteorology as a science after becoming Weather Bureau chief. While a debate went on between the Signal Service and Congress over whether the forecasting of weather conditions should be handled by civilian agencies or the Signal Service's existing forecast office, a Congressional committee was formed to oversee the matter, recommending that the office's operations be transferred to the Department of War following a two-year investigation.
The agency first became a civilian enterprise in 1890, when it became part of the Department of Agriculture. Under the oversight of that branch, the Bureau began issuing flood warnings and fire weather forecasts, and output the first daily national surface weather maps; it also established a network to distribute warnings for tropical cyclones as well as a data exchange service that relayed European weather analysis to the Bureau and vice versa. The first Weather Bureau radiosonde was launched in Massachusetts in 1937, which prompted a switch from routine aircraft observation to radiosondes within two years. The Bureau prohibited the word "tornado" from being used in any of its weather products out of concern for inciting panic (a move contradicted in its intentions by the high death tolls in past tornado outbreaks due to the lack of advanced warning) until 1938, when it began disseminating tornado warnings exclusively to emergency management personnel.
The Bureau would later be moved to the Department of Commerce in 1940. On July 12, 1950, bureau chief Francis W. Reichelderfer officially lifted the agency's ban on public tornado alerts in a Circular Letter, noting to all first order stations that "Weather Bureau employees should avoid statements that can be interpreted as a negation of the Bureau's willingness or ability to make tornado forecasts", and that a "good probability of verification" exist when issuing such forecasts due to the difficulty in accurately predicting tornadic activity. However it would not be until it faced criticism for continuing to refuse to provide public tornado warnings and preventing the release of the USAF Severe Weather Warning Center's tornado forecasts (pioneered in 1948 by Air Force Capt. Robert C. Miller and Major Ernest Fawbush) beyond military personnel that the Bureau issued its first experimental public tornado forecasts in March 1952. In 1957, the Bureau began using radars for short-term forecasting of local storms and hydrological events, using modified versions of those used by Navy aircraft to create the WSR-57 (Weather Surveillance Radar, 1957), with a network of WSR systems being deployed nationwide through the early 1960s; some of the radars were upgraded to WSR-74 models beginning in 1974.
The Weather Bureau became part of the Environmental Science Services Administration when that agency was formed in August 1966. The Environmental Science Services Administration was renamed the National Oceanic and Atmospheric Administration (NOAA) on October 1, 1970, with the enactment of the National Environmental Policy Act. At this time, the Weather Bureau became the National Weather Service.[5] NEXRAD (Next Generation Radar), a system of Doppler radars deployed to improve the detection and warning time of severe local storms, replaced the WSR-57 and WSR-74 systems between 1988 and 1997