Continuing on with the Illinois born major league players takes me to a Logan County small town of Elkhart. I found an interesting tidbit that I didn't know in the story of Jake Stahl. Here are two players born in Elkhart.
Here is a link to previous Illinois Born players.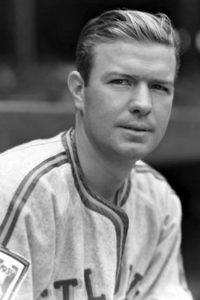 Rupert Lockhart "Tommy" Thompson was born in Elkhart, Illinois on May 19, 1910. He made his debut as an outfielder for the Boston Braves on September 3, 1933. He went 0-for-4 with one walk in his team's 14 inning loss to New York.
He went on to play for the Boston Braves (1933–36), Chicago White Sox (1938–39), and St. Louis Browns (1939). He made his last major league appearance on June 9, 1939. In his career he batted .266 with 9 home runs and 119 runs batted in. He may have put it all together in 1945 when he was in the Pacific Coast League playing for the San Diego Padres as he batted .346. 
His Transaction Review
September 2, 1933: Purchased by the Boston Braves from Albany (International).
December 4, 1936: Traded by the Boston Bees with Tiny Chaplin and cash to San Diego (PCL) for Vince DiMaggio.
October 5, 1937: Drafted by the Chicago White Sox from San Diego (PCL) in the 1937 rule 5 draft.
April 27, 1939: Purchased by the St. Louis Browns from the Chicago White Sox.
He died at the age of 61 on May 24, 1971 and is buried in the New Auburn Cemetery, Auburn, California.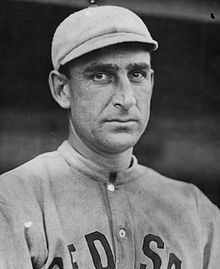 Garland "Jake" Stahl was born on April 13, 1879 in Elkhart, Illinois as the the third son of Henry and Eliza Stahl. He grew up to be 6'2" and 195 lbs and many considered him a beast, particularly on the football field. He graduated from high school (which was 10th grade) and went to work at the family store while attending the University of Illinois. While there, the football coach, George Huff, encouraged him to tryout for the football team.
  He made the team and quickly became a two-way football star with a great season 1901. He was named captain of the team in 1902. Football was not the only sport he excelled at as Huff was also the baseball coach and made Stahl his catcher. He batted .441 during his sophomore season.
He graduated with a law degree in 1903 from the University of Illinois. He clearly was a good student but he wasn't with adventure and a keen interest in females.  The University of Illinois yearbooks of the time contain two references to Jake's social activities, including a poem describing his carriage ride with a young woman named Clara. Jake met his future wife, Jennie Mahan, at the university.
 He graduated from the University of Illinois as a Kappa Kappa member of the Sigma Chi fraternity. Stahl made his major league debut as a catcher on April 20, 1903 for the Boston Americans. In 1904 he was traded to the Washington Senators and they converted him to first base.
  His best season was probably 1910 when he led the American League in home runs with 10 as a player for the Boston Red Sox but also fanned 128 times.  He played from 1903-1913 with four different teams.
 He was known in baseball circles as a player that went through the motions and had a large tendency to loaf as a player. He last played on June 13, 1913 for the Red Sox. In his career he hit 31 homers, drove in 437 runs, stole 178 bases and ended with a .261 batting average.
  He was a player/manager and guided the Red Sox to a World Series Championship in 1912. For his managerial career he was 263-270.
NOTE: This was one of only four World Series to go to eight games, and the only best-of-seven Series to do so. While the 1912 Series was extended to eight games due to a tie game being called on account of darkness, the 1903, 1919, and 1921 World Series were all best-of-nine affairs that happened to run eight games.
MGR NOTE: Stahl was ejected 8 times in his managerial career.
He was fired the next season due to a disagreement with management. Many people around baseball believed it was a mistake to fire Stahl but he ended his baseball career and retired to banking. He joined his father-in-law and the Washington Park National Bank. He became very successful in that business but soon came down with an illness. He died of tuberculosis at age 43 in Monrovia, California on October 18, 1922.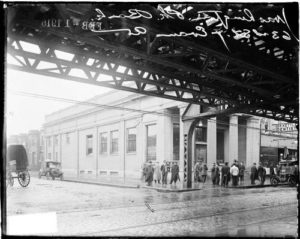 Exterior view of Washington Park National Bank, located at East 63rd Street and South Evans Avenue in the Woodlawn community area of Chicago, Illinois.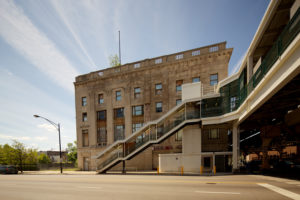 Here is the same bank in 2015.
Where is Elkhart, Illinois?
Elkhart is a village in Logan County, Illinois, United States. The population was 443 at the 2000 census.

Village Website

Early history from wikipedia


In some respects the history of Elkhart dates from the first settlement of James Latham at Elkhart Grove (Elk Heart) in the spring of 1819. From the very earliest times Elkhart Hill has been the scene of activity. James Latham's house, and later Richard Latham's place on the brow of the hill further south, were stops on the early stage routes from Springfield to Bloomington, and here travelers were received with true pioneer hospitality. In later days, Abraham Lincoln, David Davis, John T. Stuart and others, when traveling the judicial circuit frequently tarried overnight at Elkhart Grove. In about 1820, James Latham also built a horse mill at the Grove. Before this, the early settlers had been compelled to go to Edwardsville to mill. During the mill's existence, settlers came a great distance to get their grinding done and frequently camped overnight waiting their turn.

A town site was at one time projected by Aquilla Davis. But nothing definite was done in that direction until the Alton & Sangamon (now the Chicago & Alton) railroad came through in 1853. Once the tracks were laid, an old horse mill, owned by Seneca Woods, was brought from Springfield by William Mozee and converted into a warehouse. This was the first building in the town of Elkhart. In 1855, John Shockey, of Franklin County, Pennsylvania, laid out the town, which was surveyed by County Surveyor Conaway Pence on April 11 of that year. Christian Shockey and John Rinehart were chain carriers, Wm. F. Elkin and A. E. Constant were witnesses to the survey, and the town was given the name of Elkhart City to distinguish it from Elkhart Hill and Elkhart Grove. The same year Mr. Shockey erected a large, frame hotel. J. R. Saunders also built a brick store and offered the first general stock of goods for sale in the town. A few goods had been for sale in the old warehouse, but no regular stock had been kept. Quite a number of houses were built that same summer, and the town experienced quite a growth spurt during the later 1850s. J. R. Saunders served the first postmaster and railroad agent, and William Rankin was his assistant. In 1858, John Gibbs erected a warehouse. Shockey's 16-acre (65,000 m2) addition was added to the original town in January 1858. Rigney's addition was laid out in 1863, and Thompson's addition was added in 1865. A small district school house was moved into the town in 1856, which gave way to a larger structure in 1865.

For many years Elkhart was one of the largest shipping points on the C&A Railroad. This was due in part to the large stock farms of John D. Gillett. The town was incorporated Feb. 22, 1861 by special legislative charter. The first officers were James Rigney, president; W. M. Helm, clerk; T. H. Cantrall, treasurer; L. D. Dana, justice; Martin Buzzard, constable; and A. H. Bogardus, street commissioner. A Methodist church was built in the village in 1863, a Catholic church in 1864, and a Christian church in 1867. Captain A.H. Bogardus was a resident of Elkhart at the time he was crowned American Wing Shot Champion and when he won the world championship medal in London in 1875. A new rail depot was built at Elkhart in 1888.

Like many frontier towns, Elkhart has had its share of fires. The nearby residence of the rancher John D. Gillett was destroyed by fire on Feb. 14, 1871, although he rebuilt on the same site. On March 2, 1891, Gov. Richard J. Oglesby's residence was consumed by fire. A new residence was erected by Gov. Oglesby but on a site further to the south and east, now known as Oglehurst. Gov. Oglesby died in this home on April 24, 1899. On May 24, 1889, lightning struck the Crang Building, which was occupied by the Hughes & Mendenhall General Store. The fire spread to adjacent buildings and destroyed most of the commercial buildings in the village. In all, the fire destroyed ten businesses and one home.

In 1885, the town was incorporated as a village under the general laws of the state, relinquishing the special legislative charter. The first board under the new incorporation consisted of Henry Stahl, C. P. Bridges, A. H. Bogardus, C. B. Taylor, David Lippet and Luther Wood. A handsome new library building was erected in 1904, the gift of the Gillett family. Elkhart was a station on the Illinois Traction System, which was built through the village in 1904.