Next: June 13, 2019- Dick Reichle born in Lincoln, Illinois
Central Illinois has had many major league baseball players in history. Let's look at them from the 12 counties that we have selected to become Central Illinois. (Logan, McLean, DeWitt, Woodford, Fulton, Peoria, Mason, Tazewell, Cass, Morgan, Menard, Sangamon).
Previous Bios Include: 
Allyn Stout (Peoria)                  Carl Vandagrift (Cantrall)
Allan Simpson (Springfield)   Emmett Seery (Princeville)
Fred Beck (Havana)                  George Radbourn (Bloomington)
Billy Rogell
Major League Debut April 14, 1925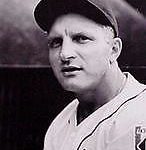 Born William George Rogell on November 24, 1904, in Springfield, Illinois as the fifth child and first boy in his family which would later increase to nine. His family moved to Assumption, Illinois where his father went to work in the mines. In 1911, at the age of 7, he lost his father to a mining accident and then at age 10, his mother dies. He was raised by his oldest sister for the majority of his childhood.
He made his major league debut with Boston on April 25, 1925, as an infielder. He played shortstop, second base, and third base. In 1930, he moved over to the Detroit Tigers and found a home there for six seasons where he played in the World Series. His final season he played a few games for the Chicago Cubs. He was released on August 28, 1940.
In the 1934 World Series, Rogell was involved with an incident with colorful Dizzy Dean. After driving in a run with a single to right in the fourth inning of game four, Spud Davis was replaced by Hall of Famer Dizzy Dean as a pinch runner at first base. Pepper Martin then stepped in and hit a ground ball to Gehringer at second. Gehringer turned and threw to Rogell who forced out Dean at second, and then fired the ball squarely into Dean's forehead on the relay throw to first. The ball ricocheted off Dean's head and landed over a hundred feet away in the outfield. Dean, always known for his quick wit and humorous nature, remarked after a visit to the hospital, "The doctors X-rayed my head and found nothing." Rogell would say of the play later, "If I'd have known his head was there, I would have thrown the ball harder."
Some Rogell's final stats include 5148 at-bats, 1375 hits, 42 home runs, a .267 career batting average, and 610 RBI's. His top salary as a player was $11,000.
After baseball, Rogell went back to Detroit and served on the city council for 36 years. He was instrumental in many projects including the building of the airports and several bridges around the city. In his time during retirement, he always looks after other former players that were down in their luck. There were several players he helped get out of a jam and straight with the world.
On August 9, 2003, he died of pneumonia at the age of 98. He is buried in Sterling Heights, Michigan. After his death, the Detroit City Council made this statement former County Executive Edward McNamara, "Billy Rogell was not only a great athlete but also a great politician, he always fought for what he thought was right and then stuck to his guns. His vision and unwavering hard work helped Metro Airport grow into one of the world's most important air transportation gateways."