Continuing with my series, today I focus in the Springfield area and find a few small towns with major league players in their history. I am making a conscious effort to stay away from the Chicago area and focus more on the small town and a few of the larger downstate cities and their history.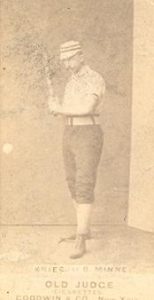 William "Bill" Krieg
Born in Menard County
William Frederick Krieg (January 29, 1859 – March 25. 1930) was a Major League Baseball player from 1884 to 1887.
Krieg was born in Petersburg, Illinois. He played college baseball at the University of Notre Dame and then started his professional baseball career in 1883, in the Northwestern League. In 1884, Krieg played in the Union Association, which is now considered a "major league." and made his professional debut on April 20, 1884 and  he batted .247. During the following season, he had short stints with four different ballclubs: two minor league teams based in Hartford and the major league Chicago White Stockings and Brooklyn Grays. In 1886, he split time with the Washington Nationals and the Eastern League's Hartford Dark Blues.
Krieg started 1887 with Washington. On opening day, he hit a home run, however, he batted just .253 in 25 games and was released in midseason. He played his final major league game on June 15, 1887. In his career, he played in 141 games with 535 at bats, 127 hits, 29 doubles4 home runs, 37 runs batted in and 4 stolen bases along with a .237 batting average  Afterwards, he joined the Northwestern League's Minneapolis Millers and batted .402, which was the second-best total in the circuit.
Krieg played in the Western Association in 1888 and would remain in that league for most of the following decade. In 1889, he batted .326 and then joined Milwaukee in 1890.In 1892, he won his first batting title while playing in Milwaukee. Krieg had a career season with Rockford in 1895. During that campaign, he batted a robust .452, with 237 hits, 14 triples, and 11 home runs to lead the Western Association in all four categories. He won another batting title the following year, at .350. In 1897, he hit .340. In 1898, he became the player-manager for the Burlington Hawkeyes, but his batting average slipped to .297. In 1899, he was player-manager for the Bloomington Blues.
Krieg's playing career ended in 1901, when he was 42 years old. The following season, he managed in the Southern Association and then retired from the game. Early in his career, he had been a catcher, outfielder, and first baseman – he played the majority of his MLB games as a catcher – but he ended up being primarily a first baseman later in his career. He won three batting titles in the minor leagues. Krieg's lifetime minor league batting average was .335, and Bill James considered him to be the best minor league baseball player of the 1880s.
Krieg died on March 25, 1930, at the age of 71 and is buried in Chillicothe, Illinois.
Where is Petersburg, Illinois? Here is the wikipedia entry:
Petersburg is a city in Menard County, Illinois, United States, on the bluffs and part of the floodplain overlooking the Sangamon River. It is part of the Springfield, Illinois Metropolitan Statistical Area. The population was 2,299 at the 2000 census, and 2,185 at a 2009 estimate. It is the county seat of Menard County.Petersburg is located approximately two miles north of New Salem, the original settlement where Abraham Lincoln first settled when he came to Illinois.
Other notables from Petersburg:
William Taylor Davidson, newspaper editor; born in Petersburg
Edgar Lee Masters, lawyer and author (Spoon River Anthology); boyhood home is still preserved and open for visits
William B. McKinley, United States Senator from Illinois
Ann Rutledge, allegedly Abraham Lincoln's first love; buried in Petersburg's Oakland Cemetery

Carl Vandagrift
Born in Sangamon County
Born in Cantrall, Illinois, Vandagrift attended the University of Illinois before his entrance into the baseball world. The 5'8″ infielder got his chance at age 31 to play professional baseball with the Indianapolis Hoosiers with his debut on May 19, 1914 as a second baseman. He appeared in 43 games and accumulated 136 at bats with 34 hits for a .250 batting average along with 4 doubles and no triples or homers. He walked 9 times and struck out 15 at bats. In th field, he was a butcher with 10 errors in 28 games at second base. They moved him to third and short for the other fifteen games and he had 4 errors for a total of 14 in 43 games. He played his last game on October 5, 1914. His life was short as he died on October 9, 1920 at the age of 37. He is buried in Fort Wayne, Indiana.
So if he played for the Indianapolis Hoosiers, How can we say he played in the major leagues? Here's your answer.
When the Federal League opened for business in 1914 as a challenger to the two major leagues, one franchise was placed in Indianapolis. Primarily owned by oil magnate Harry F. Sinclair, this team won the Federal League championship in 1914 with an 88–65 record. The team played at Federal League Park. The team's roster included future Baseball Hall of Fame members Edd Roush and Bill McKechnie.
Although the Federal League had placed a team (the Tip-Tops) in Brooklyn, from the outset Federal League officials felt they could more effectively compete commercially against the American and National leagues by placing a team in Manhattan. All attempts were effectively blocked by principals of the two existing Manhattan teams (the New York Giants and the New York Yankees). Federal League executives decided to relocate the Indianapolis franchise to a major city in the New York metropolitan area, and Newark was chosen. Although the team was named the Newark Peppers, the team actually played at Harrison Park, in the town of Harrison, New Jersey, across the Passaic River from downtown Newark. (As part of the franchise transfer, Indianapolis outfielder Benny Kauff, who was the Federal League batting champ in 1914, was placed with the Tip-Tops.)
The team finished in 5th place with a won–loss record of 80–72. The Peppers were disbanded when the Federal League went out of business after two seasons.
Interesting sidenote: Team infielder Rupert Mills "played" the non-existent 1916 "season." A clause in his 1915 contract guaranteed him a salary for the following year as long as he continued to show up at the park, suited and ready to play for the team. Mills fulfilled his contractual obligation, coming to the empty park each day and performing a physical workout to remain in playing condition.
Where is Cantrall, Illinois? This is the wikipedia entry for Cantrall.
As of the census of 2000, there were 139 people, 53 households, and 40 families residing in the village. The population density was 545.3 people per square mile (214.7/km²). There were 55 housing units at an average density of 215.8 per square mile (84.9/km²). The racial makeup of the village was 99.28% White, and 0.72% Asian.

There were 53 households out of which 43.4% had children under the age of 18 living with them, 66.0% were married couples living together, 3.8% had a female householder with no husband present, and 24.5% were non-families. 22.6% of all households were made up of individuals and 11.3% had someone living alone who was 65 years of age or older. The average household size was 2.62 and the average family size was 3.08.

In the village the age distribution of the population shows 25.2% under the age of 18, 5.8% from 18 to 24, 30.9% from 25 to 44, 20.1% from 45 to 64, and 18.0% who were 65 years of age or older. The median age was 40 years. For every 100 females there were 113.8 males. For every 100 females age 18 and over, there were 100.0 males.

The median income for a household in the village was $45,000, and the median income for a family was $45,417. Males had a median income of $49,375 versus $21,719 for females. The per capita income for the village was $21,610. There were none of the families and 1.4% of the population living below the poverty line, including no under eighteens and none of those over 64.