Part One- – Judge Kenesaw Landis
A.B. "Happy" Chandler
After the first commissioner of baseball, Judge Kenesaw Landis died on November 25, 1944, a new one was needed. Leslie O'Connor was named as the interim commissioner until a permanent replacement could be named. Many felt the job would easily go to O'Connor. After all, he was an assistant for 24 years and was instrumental in all aspects of the game.
A three-man council was appointed to name the replacement and after five months A.B. "Happy" Chandler was given the position. O'Connor stayed on for about a year to ease the transition. Prior to becoming commissioner of baseball, Chandler was a US Senator from Kentucky. Everyone expected the job to be a seven-year position but things didn't go well. The one thing that got him in trouble was he was ready to integrate baseball and sided with Branch Rickey to put a black player in the major leagues.
Chaos ensued. Many of the owners and general managers balked at this as they voted to not allow Jackie Robinson into baseball by a 15-0 vote. Another issue that got Chandler in hot water was his intolerance for gambling around the game. Yankees Larry MacPhail is to have had several known gamblers in the executive box during baseball games. Chandler went about putting an end to that. He suspended Leo Durocher for one year and fined the Yankees $2000 for the connection to gambling. All involved were ordered to remain silent and the true story never was made public.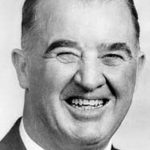 Players that jumped to the Mexican League were given a five-year ban from major league baseball which included Mickey Owen and Sal Maglie but it was lifted after three seasons. One progressive thing in Chandler's wheelhouse was the restructuring of the pension fund for players and working on the first contract with the television industry.
Part 3- Ford Frick on September 30, 2018