We're All Family: Trader John Hughes,The Big Cornstalk and Pocahontas
  First White Man Trading Post
Vol 2
Trudging along on this genealogy adventure of 2020 for my family and that of my wife, I have stumbled upon some really interesting stories. Here is one of those. 
This takes place in Linda's maternal side of her family. Her parents are Paul and Donna (Callaway) Meeker and living in Manito, Illinois. Grandma on her mother's side was Bertha (Hughes) Callaway. This is all the current information you will get for now as we jump many, many generations for our story of Trader John Hughes and his life. 
John Rice (Rees) Hughes was born in 1615 in Anglesey, Wales. Historical records have not been able to locate his parents names. John cme over to the United States at a young age and loved to hunt, fish and trap. His first real job was as a ship captain that brought immigrants from other countries to the United States. He would get the government to deed land to him and then when he got to the US, that land was divided among the parties on the ship. 
In the mid-1600s, Captain John Rice Hughes, a Welshman known in the area simply as "Trader" Hughes, established a trading post at Jamestown, Virginia, in order to trade primarily with the Powhatan Indians in the area.  It has been said that if the Jamestown colony had not been trading with the Native Americans in the area, they would not have survived their first winter.  
It is here that Hughes met a beautiful woman of the Powhatan tribe known as Nicketti or 'She-Sweeps-the-Dew-from-the-Flowers" as she is known by her tribe members. There is contention about whether John Hughes married her or not. According to historians, white men didn't marry Indian girls as a rule. It was forbidden in the white world. Whatever. More on that later. 
Nicketti and Her Family
Everyone has heard of Pocahontas of course. our ancestor was a niece of Pocahantas. In English she was called Nicketti. But because of her great beauty she was called 'She Who Sweeps Dew From Flowers' in the Algonquin tongue. She was the daughter of Cleopatra (so named as the suggestion of John Smith whom Pocohantas has saved from death earlier), a younger sister of Pocahontis.

Pocahontas was the princess daughter of Powhatan the powerful chieftain whom was the first Indian leader in America to deal with the Europeans. Cleopatra was married to Opechancanough, the brother of Powhatan. Opechancanough succeeded Powhatan as chief or their tribe and a large coalition of neighboring tribes. Opechancanough was much more warlike than his brother. In 1640 he initiated a sustained war against the whites. Although almost half the whites died, Opechancanough was finally forced to give it up.

Nicketti, his daughter even married an Englishman in the end. The first of many unions of Europeans and Native Americans began with Pocahontas and John Rolfe. Our ancestors must have certainly been amongst the very earliest.

He was Capt John Rice "Trader" Hughes. He sailed a supply ship to the Jamestown settlement. After he sold the ship, he found and married the princess Nicketti, moved them up into the mountains as yet never entered by the whites, built a cabin which served as a home and trading center. There they had their children and raised them amongst the Indians. Even during the big uprising of 1640 when half the whites were killed, the Capt. & Nicketti lived without troubles.
We start with Chief Morning Ripple of the Powhatan Tribe who was born in 1410 in Werowocomoco, Powhatan/Orapax Nation, Pre-Colonial Jamestown, Virginia. He died in 1495 in Powhatan, Virginia, having lived a long life of 85 years.
His son, also known as Morning Ripple was born in 1389. He married Ripple on an unknown date. He died in 1470 before his father. 
In 1440, they had a daughter, Murmuring Stream who was born in 1440 in Virginia, her father, Chief, was 51, and her mother, Ripple, was 28. She had one son with Chief Dashing Stream–Great Chief Powhatan (father of Emperior Wahunsonacock Powhatan) in 1517. She died in 1525 in her hometown, having lived a long life of 85 years.
Their son, Great Chief Running Stream Mamanatowick Ensenore Don Luis Velasco of the Iroquois Powhatan was born on June 3, 1517, in Staunton River, Virginia, his father, Chief, was 43 and his mother, Murmuring, was 77. He married Amopotuskee Nonoma Scent Flower Amonsoquath Winanske of the Algonkian in 1547 in Powhatan, Virginia. He died in April 1570 in Jamestown, Virginia, at the age of 52.
Next in line is Chief Running Stream Wahunsonacock Kocoum Powhatan of the Patawomeck Tribe and he was born on June 17, 1545, in Village, Virginia, his father, Great, was 28 and his mother, Amopotuskee, was 28. He had one child with Matatishe Winanuske Nonoma Powhatan and children with Matatishe Pocahon Morning Flower Nonoma Powhatan. He died in April 1618 in King William, Virginia, at the age of 72.
They had a daughter Scent Flower Powhatan Cornstalk was born on June 3, 1517, in Staunton, Virginia. She married Running Stream in 1520. She died in 1600 in Virginia having lived a long life of 83 years.
OK, here we go. 
The Great Cornstalk enters the family. Chief Opechan Stream Cornstalk (Opechancanough) Powhatan was born on June 17, 1545, in Virginia, He married Cleopatra Shawano Powhatan in his hometown. He died on October 5, 1644, in Jamestown, Virginia, at the impressive age of 99.
Here is where we find that Cleopatra was younger sister (by 17 years) to Pocahontas. Yes, that one. The John Smith one that eventually married John Rolfe. Pocahontas was only 27 when she died in the arms of her husband as she was leaving Britain to return to Virginia.  They had just sailed away and were leaving the Thames estuary when she became very sick and the ship pulled to shore where she died. Some people claim she was killed or poisoned. There are many stories about Pocahontas, many of the popular stories that everyone assumes are true are not.  The real story is much darker.
Previous to her marriage to Rolfe, Pocahontas had been married (very, very young) to Kocoum, a Patawomeck chief (the English called him a "private captaine") who was killed by the Jamestown settlers when they captured Pocahontas in 1613. They had a daughter, Ka-Okee, who was left behind to be raised by the tribe. Ka-Okee was regarded as Native American royalty and she married the high-born Englishman, Thomas Pettus. 
Now back on track.
Cleopatra had several children but for our purpose we focus on Nicketti that was mentioned above. He married Trader John Hughes and built a cabin deep in the woods on the Indian territory. 
Hughes was the first permanent settler in Amherst Co. Va. He and his Indian wife established a trading post on the north side of the James River, west of the Tobacco Row Mountains (circa late 1600's). His wife was a niece to Pocahontas.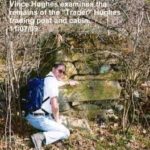 Traders began to move their goods along the upper James River around 1720. According to Alexander Brown in his 1895 book, …"Cabells and Their Kin"…, Hughes was the first known white man to open a post for Indian trade above …the falls…. He built his cabin deep in the silent forests along the Blue Ridge. Hughes traded with the local Monacan Indians and was accepted by them because of his wife's heritage
Tracing back quickly we find Mathias Hughes-Samuel Hughes-Aram Hughes-John Taylor Hughes Sr.-John Taylor and now I slow down as the family moves to Illinois.
2nd Great Grandfather of my wife
When John Demoss Hughes was born on October 9, 1819, in Holmes, Ohio, his father, Taylor, was 27 and his mother, Mary, was 21. He married Minerva Jane Snodgrass. He died on January 29, 1905, in Fulton, Illinois, having lived a long life of 85 years.
When Benjamin Scott Hughes was born on August 31, 1855, in Fulton, Illinois, his father, John, was 35 and his mother, Minerva, was 35. He had one daughter with Jennie Bailey in 1905. He died on October 21, 1928, in Pekin, Illinois, at the age of 73.
Linda's Grandmother
When Bertha Hughes was born on January 22, 1904, in Easton, Illinois, her father, Benjamin, was 48, and her mother, Jennie, was 31. She married Elmor Clyde Callaway on August 4, 1923. She died on August 30, 1979, in Pekin, Illinois, at the age of 75.
One of Elmor (which everyone called him Clyde) and Bertha's daughters is Donna Lee Callaway and she married Paul Meeker which are my wife's parents.
Now we can apply for minority scholarships with Indian blood. 
We are back to where we began!
Hope you enjoyed the trek.
Please feel free to share! 
Volume 1- The Covingtons