It's time I came clean. Not many people know this fact about me. Some would say they aren't surpised. 🙂 I graduated last in my class in the 8th grade. True fact. I will get back to that later. What I want to let you know about will be from my Junior High school years. I will touch on the 7th grade tournament but I am saving the majority of that for a complete blog all by itself. These are some random thoughts about Junior High School
JH was Cool
These years were very cool. It was the first time in your life you got to move around for classes and you had some freedom between classes. It was a couple of years of experimenting and actually being able to participate in sports every night after school that made Junior High a special place. It was also cool to get out of Manito.
Dancing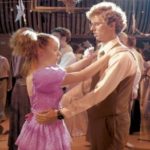 There was an odd phenomenon called dancing. It was a horrible thing to do in Junior High school. The problem with this was it required that male and females to touch each other. But what came with it was the stigma of knowing how to dance. The school always had a back-to-school dance about the second week of the year. It was from 7-9 in the gym. The vast majority of the boys hung together and the girls all huddled off to the side. Every once in awhile some couples put on an attempt to dance but that was far and in between. What went on was the gossip that floated around the gym. Some girl would come over to the boys and tell us so and so like one of the boys. Later, a boy floated over to the girls and told what had been said in their group. This went on for about an hour and a half. By the time you worked up the courage to ask a girl to dance there was 15-20 minutes left. It was a definite social experiment.
Another thing that happened was in PE, Mrs. Rossi would have a unit in dancing. This was not good. You could actually get paired up with a girl that carried cooties and you had no control over it. She lined us up and we called out a number and that was our partner. We did that several different times and was quite embarrassing.
Arts and Crafts
We had to take Arts and Crafts. Mr Guy was the teacher and he was a very odd duck. Now for me, this was one of the worst classes that I could be in. I had/have absolutely no talent in art or in the making of crafts. It was a boring class to be in. One assignment was to sculpture something. I didn't do until he announced that it was due tomorrow so those not done should take their sculpture block home to complete. I had done nothing to mine at all. Mid-evening, my brother Lyle asked me what it was and what was supposed to be done with it. I told him and explained I wasn't going to do the work. He said very little and I went to bed. Lo and behold, in the morning there was this great looking sphinx sitting on the table for me to take to class. I was a bit embarrassed because I knew and everyone knew I had no talent. I took it to class and turned it in. Just before the bell was to ring, Mr. Guy called me up and asked me if I had actually completed the project or did someone else do it. What am I to do? Just what I need to do to get a decent grade…. I told him I did it all by myself. I got an A on the project but he and I both knew I didn't do it. Thanks, Lyle!
Baseball
It was a blast. Two weeks before the first day of class we are practicing baseball every day. I had never experienced anything like it and Junior High was going to be so much fun. As the practices progressed, it appeared I was going to be the starting shortstop as a 7th grader on the 8th-grade team. Until….. one practice the catcher (I don't remember who it was) got a ball fouled off his knuckles and broke two fingers. Coach Rudd took me aside and said I was to be the teams' catcher for the season. I was just happy to play and that year and that position was a lot of fun. Jim Petty was a fireballing pitcher and he and I had played baseball in the summer for years. I loved being catcher as you were into every play of the game.
I remember two particular plays and they likely were in different games. I wasn't a power hitter but a gap man. I was up in the bottom of the 6th inning and we were down 2 runs and the bases were loaded. Do you think I hit one out of the park? Well, not exactly. I hit the ball hard just over the second baseman's glove that rolled on the grass in the outfield and just kept rolling and rolling. I was fast enough to make it a grand slam and we won in the 7th inning by two runs.
Another play I remember was in the field behind the plate. No big deal but I remember this. The pitch by Petty got away from me or he threw it wild with a runner on third base and the baseball rolled to the fence. I went back to get it and tossed it backward towards the plate as Jim Petty dove into the runner and he was called out. Just a cool blind throw that ended the inning. I think I remember that because the umpire told me it was the best play he had ever seen in a Junior High game.
Getting Stitches
Letting me share two stories with you about getting injured in the 7th grade in PE. One day we were playing flag football. Both the 7th and 8th grade boys played together. I was playing defense when the quarterback threw the ball downfield when I jumped to catch it. Problem was that at the same time on offense Leonard Wheat jumped to catch it and his teeth caught me just above the right eye and I was instantly bleeding all over. Whoever the PE teacher was sent a kid to the office to let Mr. Rudd know we needed an ambulance. He didn't call anybody. He drove his car out to the field, put me in it and drove m to Havana hospital. It was the first time I ever heard a teacher/principal cuss as we were a fes miles from town he said, "You have a hell of a gash there, Tommy. You're going to get damn stitches for that." Well, they called my mom from the school and she met us there. I had 14 stitches. Ten above my eye and 4four on the eyelid. My actual eye had no damage. I went to school the next day.
In the spring I was pitching softball in PE when a line drive smacked me in the right eye. They called my mom and she took me home. I didn't go to school the next day…….. because it was game one of the 1964 World Series and the Cardinals and Yankees were playing.
7th grade Basketball
Basketball was a blast. It was about this time of the year that I really started to like girls. However, I will add that it was also becasue girls started liking me. You see, I was the only 7th grader started on the lightweight team. Mark Thompon, Dennis Specketer, John Middleton, Lynn Vogel and myself were the primary starters. We had first year coach/science teach Frank Gassmann, a new SIU grad, as our leader. The core 5 of the team tried to emulate the players from the starting five of the then Bradley Braves. I was Joe Strawder, somebody else was LaVern Tart, another Bobby Joe Mason and I don't remember the other three.
Our season was loads of fun as we kept winning and winning. We were 22-0 going into the state tournament to be played in Rantoul. It was because of this success that I can remember that my life was a blast. The State Touney brought out the entire towns and neighboring villages along with our own student body with fan busses and such. More on the State Tournament in a few weeks.
Jamboree
Remember this? The Mason County Jamboree. I don't have anything to say about it but I enjoy it and won the baseball toss four years in a row. However, it leads into my next story.
Graduated Last in My Class
I suppose I shouldn't be admitting this and should be ashamed that I graduated last in my class when diplomas were given out a graduation. I still shake my head but there was to be graduation on Thursday night at the Forman Junior High School. On the previous weekend I was in the Mason County Jamboree on Saturday and all went well. That night I began to feel bad. All day Sunday I laid on the couch in some pain not doing so well. My parents thought maybe I had hurt myself at the Jamboree. They mentioned a rupture and to an 8th grade kid that was an embarrassment.
Finally, Monday morning they took me to the hospital and I was diagnosed with appendicitis. They did emergency surgery Monday afternoon and I got out of the hospital on Wednesday. I missed three days of school for it. Come ThursdayI really hadn't walked very far but about 5pm I insisted I go to the graduation. My parents allowed me if I walked sparingly. The school was in an uproar as they had practiced the ceremony and now I had put everything out of kilter. So they made an administrative decision. Instead of changing everything they just added me to the end. So, they added a chair for me at the end they called my name to graduate and I  walked up there slowly to the podium and received my diploma. Since I was last the crowd cheered loudly ( I am sure it was ALL for me) and officially graduate last in my class.