Carl Erskine pitched two no hitters.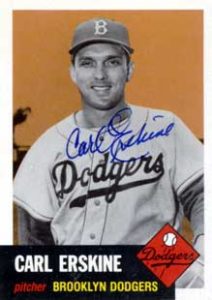 Carl Daniel Erskine (born December 13, 1926) is a former right-handed starting pitcher in Major League Baseball who played his entire career for the Brooklyn and Los Angeles Dodgers from 1948 through 1959. He was a pitching mainstay on Dodger teams which won five National League pennants, peaking with a 1953 season in which he won 20 games and set a World Series record with 14 strikeouts in a single game. Erskine pitched two of the NL's seven no-hitters during the 1950s. Following his baseball career, he was active as a business executive and an author.
Known as "Ersk", or more accurately "Oisk", owing to the Brooklynese diction of the borough, Erskine signed with the Brooklyn Dodgers in 1946, and after two minor league seasons he made the team in July 1948 as part of a powerful squad that included Roy Campanella, Carl Furillo, Gil Hodges, Pee Wee Reese, Jackie Robinson and Duke Snider. Along with Snider and Reese, he lived in the Brooklyn neighborhood of Bay Ridge, and was frequently to be found around the baseball diamonds on Shore Road, offering encouragement to youngsters.
Born: December 13, 1926 (age 90)
Anderson, Indiana
Batted: Right Threw: Right
MLB debut
July 25, 1948, for the Brooklyn Dodgers
Last MLB appearance
June 14, 1959, for the Los Angeles Dodgers
MLB statistics
Win–loss record 122–78
Earned run average 4.00
Strikeouts 981
Teams
Brooklyn / Los Angeles Dodgers (1948–1959)
Career highlights and awards
All-Star (1954)
World Series champion (1955)
Pitched two no-hitters
Erskine is also a very active member of the First Baptist Church of Anderson, Indiana.
In 2002, Erskine Street in Brooklyn was created and named after him.