A bit of a deviation from players but this manager from Springfield has some really cool things in his background.
Legacy
Barrow was the first executive to put numbers on player uniforms.
He also announced the retirement of Lou Gehrig's uniform number, the first number to be retired.
Barrow was also the first executive to allow fans to keep foul balls that entered the stands.
Barrow was also the first to require the playing of "The Star-Spangled Banner", the United States' national anthem, before every game, not only on holidays.
In May 1950, an exhibition game was played in honor of Barrow, with Barrow managing a team of retired stars.
Barrow was elected to the National Baseball Hall of Fame by the Veterans Committee in 1953.
On April 15, 1954, the Yankees dedicated a plaque to Barrow, which first hung on the center field wall at Yankee Stadium, near the flagpole and the monuments to Babe Ruth, Lou Gehrig and Miller Huggins. The plaques later moved to the stadium's Monument Park.
Barrow was an able boxer. He once fought John L. Sullivan in an exhibition for four rounds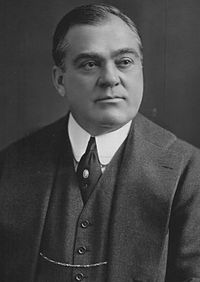 Edward Grant Barrow (May 10, 1868 – December 15, 1953) was an American manager and front office executive in Major League Baseball. He served as the field manager of the Detroit Tigers and Boston Red Sox. He served as business manager (de facto general manager) of the New York Yankees from 1921 to 1939 and as team president from 1939 to 1945, and is credited with building the Yankee dynasty.Barrow was elected to the Baseball Hall of Fame in 1953.
Born in a covered wagon in Springfield, Illinois, Barrow worked as a journalist and soap salesman before entering the business of baseball by selling concessions at games. From there, Barrow purchased minor league baseball teams, also serving as team manager, and served as president of the Atlantic League. After managing the Tigers in 1903 and 1904 and returning to the minor leagues, Barrow became disenchanted with baseball, and left the game to operate a hotel.
Barrow returned to baseball in 1910 as president of the Eastern League. After a seven-year tenure, Barrow managed the Red Sox from 1918 through 1920, leading the team to victory in the 1918 World Series. When Red Sox owner Harry Frazee began to sell his star players, Barrow joined the Yankees. During his quarter-century as their baseball operations chief, the Yankees won 14 AL pennants and 10 World Series titles.
Barrow was hospitalized on July 7, 1953 at the United Hospital of Port Chester, New York and died on December 15, at the age of 85, due to a malignancy. His body was kept at Campbell's Funeral Home and interred in Kensico Cemetery in Valhalla, Westchester County, New York.